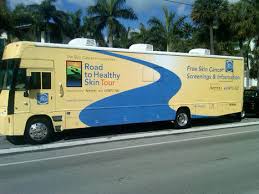 Eastman Chemical Company, manufacturer's of Vista Window Film, is partnering with the Skin Cancer Foundation as part of Skin Cancer Awareness Month to provide consumer education. As a partner, they are supporting the Road to Healthy Skin Tour presented by Rite Aid. They will be hitting the road in a 38-foot RV, complete with two exam rooms starting in New Jersey and ending August 30th in Redwood City, CA. The Tour will make 50 stops along the way at Rite Aid stores and educate the public about skin cancer prevention and the need for prompt treatment!
Local dermatologists will conduct full-body skin exams on a first-come, first-served basis. According the Dr. Dee Anna Glaser, vice-chair of the dermatology department at St. Louis University, UVA rays penetrate deep into the skin, not only causing wrinkles and aging but skin cancer as well. UVA rays, unlike UVB rays, can cause long-term damage that isn't always noticeable. Window film blocks 99.9% of the harmful rays and protects not only you and your family but your interior furnishings as well.
The Healthy Skin Tour will be in San Diego and Carlsbad August 16 and 17th. Check out the link above to see the times and places in your area.  We love San Diego for its sunny days but the rays are very intense–even when overcast!