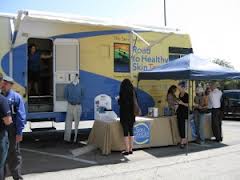 The  Road to Healthy Skin Tour presented by Rite Aid, in conjunction with the Skin Cancer Foundation and Eastman-makers of Vista and Llumar window films, will be in the San Diego Area at these dates and locations:
August 17 from 10 am to 4 pm at the Rite Aid  7100 Avenida Encinas Carlsbad, 92107   and August 15 from 10 am to 1 pm at the Rite Aid  4840 Niagara Avenue  San Diego 92107. Location is undetermined for August 16.
Be sure to bring your family for this FREE skin cancer screening.