Window film is often sought after for the comfort, security, and energy-saving benefits it can provide to a home or business. What many people don't consider are the ways it can be used to make a space more attractive, inspiring, and personal. Decorative window films come in a wide variety of styles and can be customized to fit any space or application!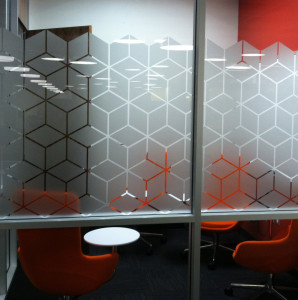 We outfitted DART Neuroscience with custom window frosting for their interior conference rooms.  This tasteful geometric pattern adds style and the right level of privacy to their meeting spaces.
We like to think this will inspire advances in neuroscience, but we know it advanced the ambiance of the office!  View the gallery to follow along with the Eco Tint and Shade installation team.
For more information on custom window frosting or other commercial window tinting, contact us today for a FREE consultation at 858.332.1650!